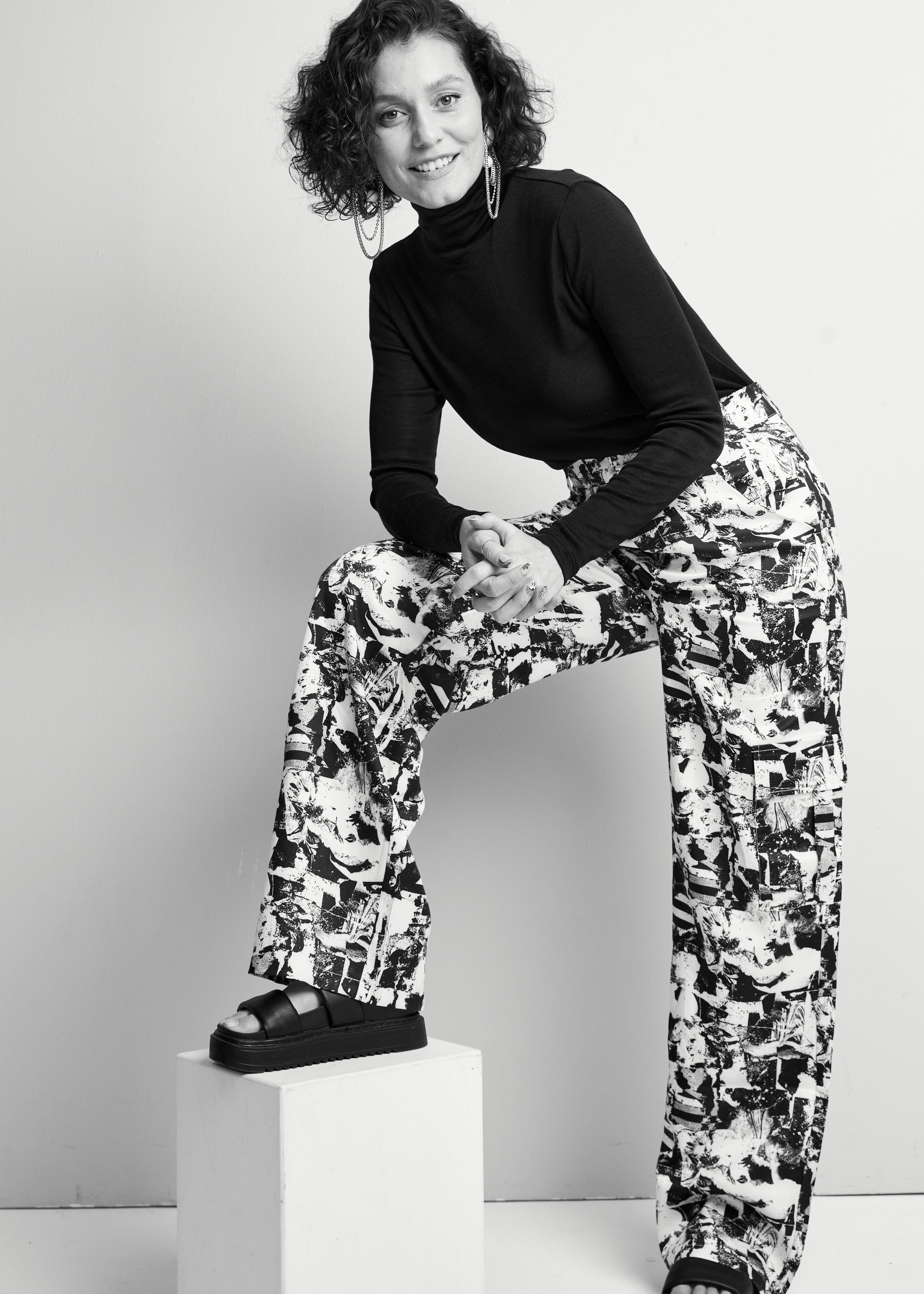 Renee Sayed has been known for her artistic flair since she was a child, doing paintings and drawings with her Mum after school. Based in Sydney Australia, Renee has become a visionary leader in the hair and makeup industry with over 15 years experience in fashion, beauty, celebrity, tv/film, advertising and bridal.
Fortunate to learn from and work with some of the most influential global artists, Renee has gained pure skill as a perfectionist on her own creative journey. Throughout her illustrious career, Renee has worked with Cartier, ESCADA, Louis Vuitton, Mercedes Benz Fashion Week Australia, Vogue Italia, Marie Claire, David Jones, Longines, ARIAs, Adidas, Maybelline, Pretty Little Thing, OK! Magazine, Entertainment One, Channel Ten, The Voice, Unbroken (film), SWV, Sophie Monk, Alex Perry, Deborah Ann Woll, Modern Wedding Magazine, Steven Khalil, Forcast, Rockwear, Rebel Sport and Element Brand - to name a few.
Renee was named one of Sydney's top hair stylists by ELLE Australia and internationally by Moroccan Oil. Her editorial collections in collaboration with renowned photographers, models and stylists, have gained prestigious recognition in global media. Renee's inspiration is derived from her travels, culture, art, dance, music and spirituality. Her work is expressed through colour, pattern, texture and shape to excite the senses and bring imagination to life.
Renee's grounded personality, dedication and talent enables her to fulfil client expectations and create versatile looks with professionalism, initiative and flawless results.
CV
A D V E R T I S I N G
Facebook
Champion
ISOLA by Megan Gale
Head'n'Shoulders
Pantene
Elle & Voo
Rebel Sport
Nourished Life
Spiral Foods
Gazal Brands
Best'n'Less
Meriton Suites
Fitness First
Batiste
Head n Shoulders
Adidas
BooHoo
Lend Lease
Smirnoff
Stockland
Just Jeans
Venus & Olay
Telstra / Samsung
OPPO
Aceology
Sans Drinks
Bumble
Boss BET
E D I T O R I A L
American Apparel
Honey & Beau
Belle Magazine
Cleo Magazine
David Jones
Dolly Magazine
Famous Magazine
Fashion Journal Mag
Grazia Magazine
Helmet Magazine
L'Oreal Paris
Lucys Magazine
Marie Claire Magazine
Mens Style Magazine
OK! Magazine
Cosmo
Good Health Magazine
Prevention Magazine
Gourmet Traveller
Vogue Italia
Sunday Magazine
Woman's Health
Women's Weekly
Weight Watchers
Good Food Magazine
Laud Magazine
We Are Handsome
C A M P A I G N
Rockwear
Forcast
Von Zipper
Element Eden
Tree of Life
Miller
Natalie Alamein
Corston Couture
E V E N T S / S H O W S
ESCADA
Louis Vuitton
Cartier
Fiji Fashion Week
MBFWA
ARIAS
G'Day USA AAA Arts Gala
Jac + Jack
Christopher Esber
Donna Hay
Glassons
GHD
Klorane
20th Century Fox
Pandora Fashion Parade
Pureology Hair Booth
Phoenix Keating Fashion Show
La Senza Fashion Parade
Longines
Maybelline
Stop Hunger Now
Tommy Hilfiger Party
WHO Sexiest People Party
Kylie Minogue Concert
Qantas 90th Anniversary
SABA show
Sunsilk Fashion Parades
NAIDOCC Awards
EMI Music
Mardi Gras
Fashion Palette
Miss Galaxy Australia
World Square
T V / F I L M
'Unbroken' movie by Angelina Jolie
Total Control TVS
'Alive' Dami Im Music Video
'Hard to get to love' Chris Sebastian Music Video
SYTYCD Australia
Ladies Night - Entertainment One
Recipe to Riches
The Bachelor
The Voice 2021
Formal Wars
Commonwealth Bank TVC
Coca Cola TVC
Coles TVC
KIA TVC
Priceline TVC
ANZ Netball Championships TVC
Head n Shoulders TVC
Home & Away
Integral Energy TVC
iSelect TVC
Michael Hill TVC
'Sunday Suit' Tyne-James Music Video
'Beautiful & Bittersweet' Mia Rodriguez Music Video
Mike Champion Music Video
Mission Australia TVC
QBE Insurance TVC
Below Deck
Australian Ritual
TVSN
Revitive TVC
G'Day USA AAA Arts Gala
Westfield TVC
Facebook
Every Bite Takes Me Home
E-Harmony TVC
BWS
D I R E C T O R S
Angelina Jolie
Simon Morehead
Beth Armstrong
Jack Warwick
Jonathon Lim
Andrew Cameron
Jonathan Adams
Zoe Kouros
Henry Motteram
Rob Palmer
Adam Speranza
Greta Lee Jackson
Dale Watkins
Zac Lynch-Woodlock
Josh Logue
Adam Terrey
Wayne Blair
Macario De Souza
Aislinn Lowe
Ed Copestick
Dan Saunders
Nev Fordyce
Nadine Spencer
P R O D U C T I O N
Entertainment One
BET Productions
Crater
Scoundrel
Elastic Studios
Fremantle Media
Only Everything
And People
Emotive Content
Medium Rare Content
Come Alive Productions
The Precinct
Fox Sports
Infinity Squared
Chronicle Studios
Heckler TV
Two Little Films
Sweet & Chilli
ABC Studios
ITV Studios
CHE Proximity
Hype Republic
Now We Collide
The Pool Collective
Lune Media
Seven Network
Network Ten
Stan
Rizer
Flipp
C E L E B R I T Y
Alex Perry
Didier Cohen
T-Boz (TLC)
SWV
Deborah Ann Woll
Charlotte Crosby
Samantha Jade
Dami Im
Dr. Chris Brown
Julia Morris
Kylie Kwong
Michelle Bridges
Jessica Rowe
Shelley Craft
Amanda Keller
Sam Harris
Michelle Langstone
Danielle Cormack
Sophie Monk
Miranda Tapsell
David Campbell
Mirusia Louwerse
William Barton
Imogen Clark
Chris Sebastian
Manu Feildel
Bonnie Sveen
Reece Mastin
Renae Ayris
Anna Heinrich
Joe Moore
Anja Nissen
Reigan Derry
Michael Dameski
Wonderland cast
Home & Away cast
Total Control cast
Unbroken cast
Ben Barrington
Blake Garvey
Robyn Hitchcock
Ray Meagher